speaking of shoes, I just noticed that my favorite flats of all time are back in stock at Zappos.* I spent two years+ searching for the perfect black leather ballet flats, and finally found them last fall in KORS Michael Kors' Olympia flats. No embellishment. No sparkle. No exterior branding. Just plain, super soft, black leather. And crazy comfortableness. Have you ever had/tried on super expensive, super soft leather gloves? They're like that, but for your feet.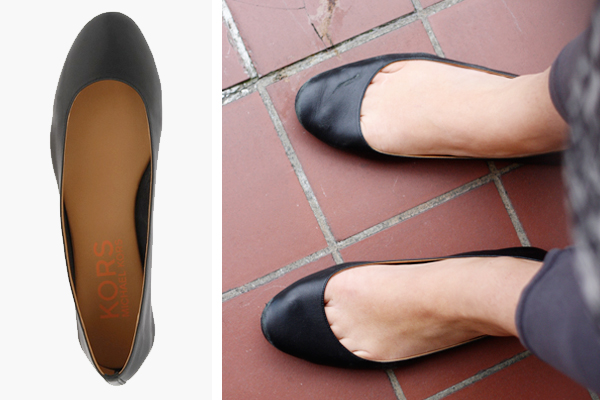 I like them so much that I bought a back-up pair for when my first inevitably wears out to the point of not being repairable anymore, at which point they will inevitably be discontinued (find a good shoe repair shop – it will change your life for the better.) Yes, they definitely cost more than I would usually spend on such a simple flat, but were so worth it. It is ridiculously hard to find a pair of well made simple shoes these days.
Anyone else have a pair of great, well made, comfortable flats to recommend? I am always on the hunt for more. (it's not like I have too many shoes or anything)
*no, Zappos does not pay me to link to them. But considering how much I spend there, I really wish they would – feel free to get in touch!
photos: left, Zappos; right, Elizabeth F. Clayton