I think that nail polish is one of the cheapest and most fun accessories out there, and so can be found wearing it the vast majority of the time (quite a while ago I spent some time and got really good at painting my own nails – 1 bottle of nailpolish will get you… a lot of nail painting, and generally costs less than a single salon manicure. I do spring for cheap-but-good pedicures about every  4-5 weeks.)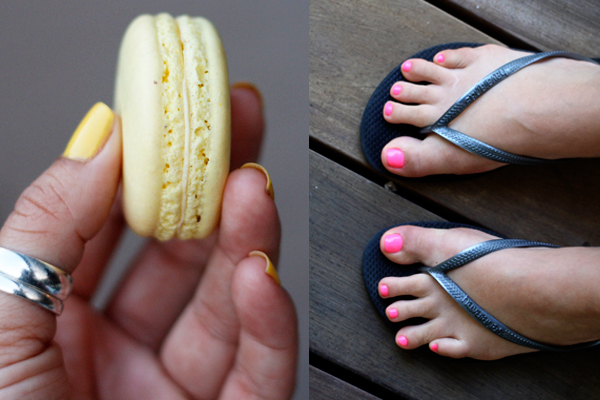 I just switched over to summer shades, and am especially loving the two I have on right now: Essie's Punchy Pink on my toes (it is so neon that literally almost glows in the dark, and as such is hard to photograph) and Chanel's Mimosa on my fingers, which really is kind of the perfect shade of yellow. It also happened to match the best macaron I've ever had in my life (and yes, I have been to Paris) from the Indie Cakes & Pastries booth at Art Murmur this weekend. The cookie pictured is passionfruit, although I also tried their strawberry lemonade & pistachio. All of them were to die for, and I'm currently trying to figure out how to afford having a steady stream delivered to my front door.
Have a favorite summer nailpolish color or secret source for macarons? Don't hoard your sources, leave a comment below!