I almost never get to see photos of what I look like when I'm working (appropriately: I'm not usually also a guest, and so I work hard to be both easily accessible and out of the way, which means professional photographers don't always capture me,) so I'm loving the photos popping up on Facebook from the wedding I did two weeks ago that have me in them.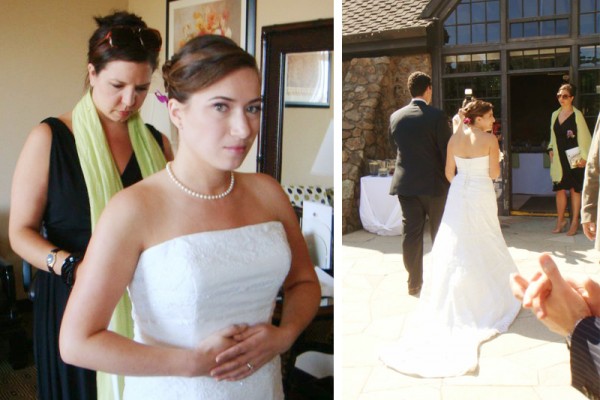 I especially love the look of total concentration on my face in the photo on the left – I was lacing up the corset of the bride's dress, and well, if you've ever done it, you know that it's a task that takes some concentration. And the photo on the right, where I'm getting ready to shut the door to the venue as soon as they walk through it so that the couple can go to their yichud in peace, shows me that I probably need to work on unlocking my knees while standing still in heels.
This was *such* a great wedding – I can't wait to share more images of it once the pro-photos come back.
photo credit: friends of the bride, via the bride's personal camera