This past Saturday I found me back at the Brazil Room (one of my favorite Bay Area wedding venues) to coordinate Melody & Mark's wedding. It was *awesome* – they're both musicians and the whole day was full of great music, amazing food, and a lot of fun.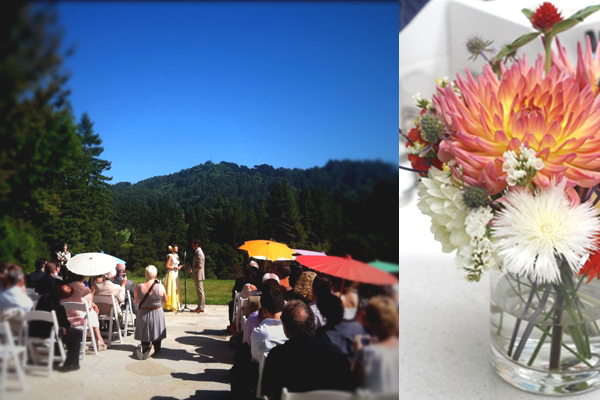 Melody & her mom arranged the centerpieces, and sent them home with the guests at the end of the night, so I've had this pretty little thing (on the right) sitting on my bathroom counter for the last few days. It makes me smile every time I see it. Their pro-photographer was Kristen Marie from Seattle, and she was a total doll (we got to chat about what it's like to be unmarried while working in the wedding industry – personally, I kind of weirdly love it!) and I can't wait to see the photos!
ps. for those of you who pay attention to these things on Twitter, you realize that I'm missing the wedding I did on August 6th – I didn't get a *single photo* while I was there, so am waiting until the pro ones come back before I blog about it.