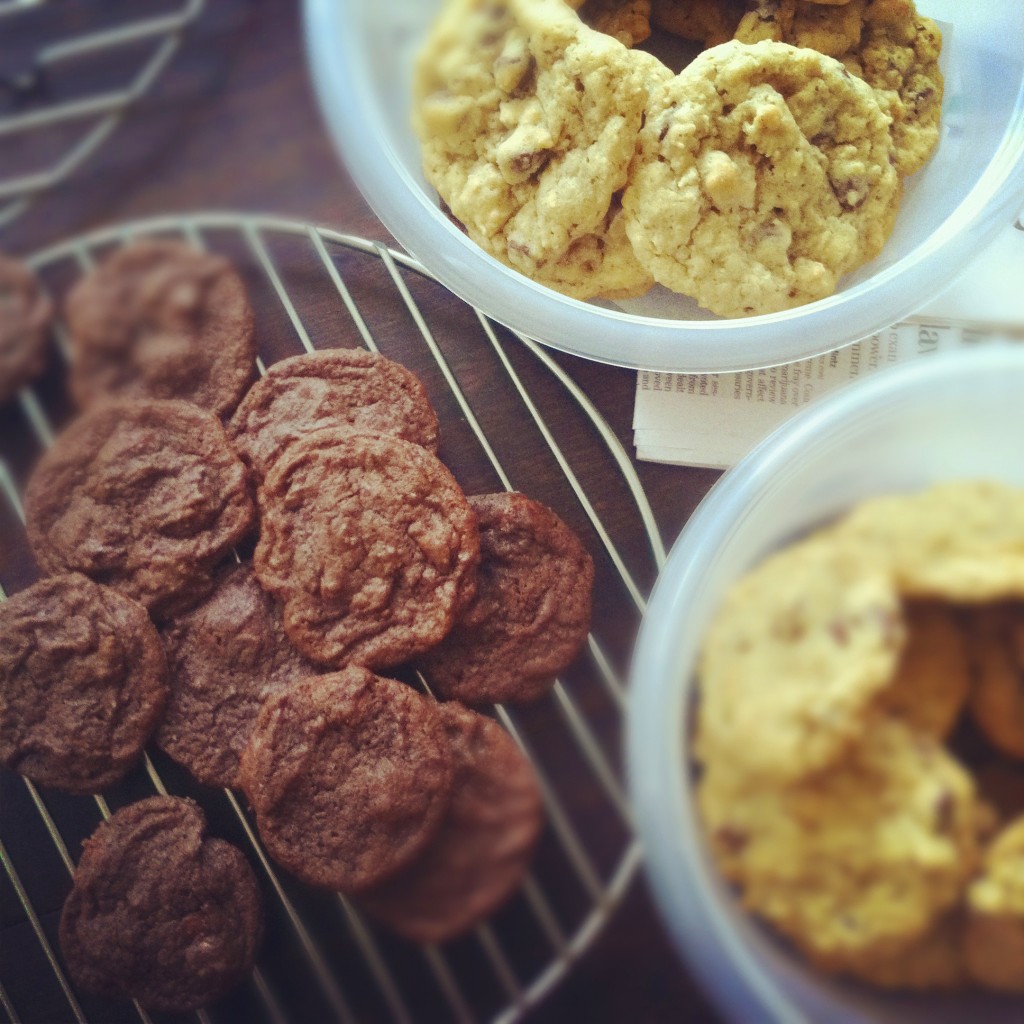 When I don't feel that I can really help someone in a concrete way, I end up baking a lot – it's a particular kind of stress release that makes me feel like I'm at least helping… in thought. A good friend of mine is in middle of what's turned out to be a long hospital stay, and I've turned into somewhat of a cookie baking machine – I think I've made about 30 dozen cookies in the last ten days (most of them have gone to the nursing staff at the hospital.) I don't eat chocolate, and so when I got a request for "peanutish chocolatish" cookies I put out a twitter ask for suggestions. My friend Kate came through with the recipe below (chocolate cookies pictured above) which is one she adapted from a Hershey's recipe, and I've now gotten three separate requests for a copy of it. So while I haven't eaten them myself, I have it on multiple authorities that they're great. They're also very, very easy. Recipe below the jump!
Chewy Chocolate cookies with Peanut Butter (Kate's notes are in parenthesis, mine are in italics)
yield: 4.5 dozen (I've gotten 6 dozen per batch twice now)
1 1/4 c softened butter
2 c sugar
2 eggs
2t vanilla
2 c unsifted flour
3/4 c cocoa powder (ya know, NOT the hot chocolate mix… pref. hershey's, actually, but whatever you have on hand or is easy!)
1 t baking soda
1/2 t salt
1+ c either peanut butter chips (kinda hard to find!), reese's pieces (or mini reese's pieces, if those are real), or tiny peanut butter cups (available at Trader Joe's! personal fave.) (I've been using one container of the TJ's mini pb cups)
Cream butter and sugar well.
Add eggs and vanilla. Blend.
Combine dry ingredients (except peanut buttery thing) in another bowl.
Blend dry ingredients into creamed ingredients.
Stir in peanut buttery thing.
Drop by teaspoonful onto ungreased cookie sheet.
Bake at 350 (preheated) for 8 to 9 minutes.
Do not over-bake. They will be soft.
They will puff during baking and will flatten when cool.
Cool on pan for a minute (I've found cooling on pan for 5-7 min is better), then move to wire rack to cool completely.